Nkechi Obi emerges winner of N.I.E.S 2023 Lifetime Achievement Award for Energy Sector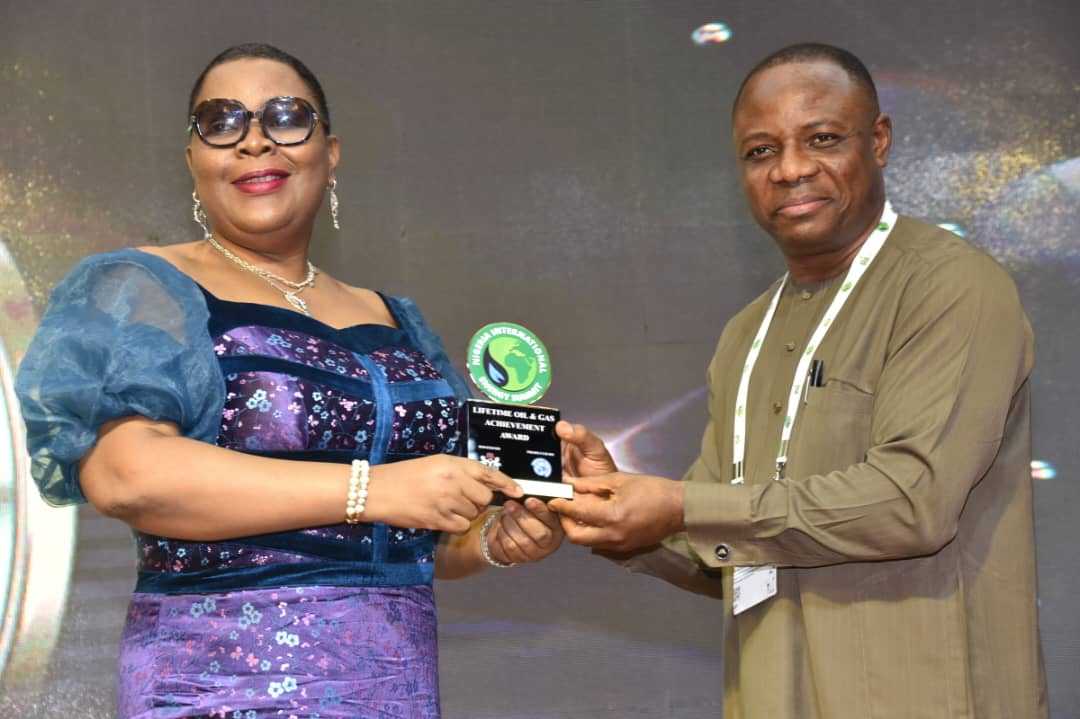 The Group Managing Director of Techno Oil Group, Mrs. Nkechi Obi has emerged the Nigeria International Energy Summit (N.I.E.S 2023) winner of the Lifetime Achievement award for the energy sector.
"I am extremely honored and humbled to receive the Lifetime Achievement Award in Energy Sector. Nothing compares to the pride and joy of working so hard for many years and being presented with a lifetime achievement award", said Nkechi Obi on the sidelines of the award event while speaking to select journalists.
The NIES Lifetime Achievement award is an award of excellence to celebrate industry executive who continues to change the face of the energy industry, demonstrating outstanding leadership and performance of the years.
"I am grateful to the Federal Ministry of Petroleum Resources and the organizers of the event, Brevity Anderson, for the recognition for my work in the industry", Obi said.
While dedicating the award to her family for standing solidly behind her all through the journey, Mrs. Nkechi Obi also expressed appreciation to all members of staff and management of Techno Oil Group at all levels for their professionalism, tenacity, hard work and loyalty.
From the humble beginning of sales and marketing of ESSO brand of lubricants as exclusive franchise holder in 1988, Techno Oil made a giant leap by setting up a 10,000 Metric Tons Lubricant Blending and Manufacturing Plant with State–of-the-art Quality Assurance Laboratory for its own brand of ISO-certified lubricants that meet international standards.
Today, the group is now an integrated, wholly indigenous company with diverse portfolio of prime investment in oil and gas, energy, infrastructure and manufacturing focusing on its goal of remaining Nigeria's leading service provider in the energy sector with a reputation for quality, reliability while operating the highest safety, environmental, operational and social standards.
Techno Oil Group operates a 65,000 Metric Tons Fuel Terminal Facility where all fuels marketed by the Group are received, stored and eventually distributed. The terminal is equipped with a 200-metre two-finger jetty that aids receipts of petroleum products through coastal supplies from refineries across the world. The Group is a major supplier of Diesel, Petrol, Gas Oil, Marine Gas Oil, Marine Fuel Oil, Kerosene, Propane, Butane and Fuel Oil in Nigeria.
In line with the Federal Government's National LPG Expansion Policy Framework aimed deepening the adoption of LPG, Techno Oil Group established 8,400 Metric Tons of LPG Coastal Storage Terminal with capacity to load out 6,000 Metric Tons, an equivalent of 300 Trucks of 20 Metric Tons load daily. In addition, it has LPG Bottling and Filling Plants and LPG Skids across the country, with a combined capacity of 2,000 Metric Tons responsible for the daily refill and distribution of over 24,000 bottles of LPG Cylinders for both domestic and commercial users.
Techno Oil also established a fully-automated ultra-modern LPG Cylinder Manufacturing Plant, West Africa's Largest LPG Cylinder Manufacturing Plant, with an annual installed production capacity of over 5 million pieces of LPG Cylinders and a state-of-the-art laboratory and modern testing equipment to ensure quality and safety.