Our People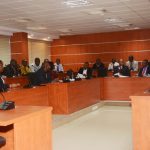 Our people are mostly highly experienced veterans in the petroleum industry. Our workforce is our most valuable resource and vital to our success. Our workforce is made up of 500 personnel in multidisciplinary groups, comprising Chemical, Electrical and Mechanical engineers as well as Accountants, Lawyers, Economists, etc.
Human capital development is at the fulcrum of the relationship of the company and its employees which is directed at enhancing productivity. As a company aspiring to play globally, opportunities for overseas training exist. Every effort is made to match the skills available with those required as well as encouraging creativity to improve quality of work.
Our key human resource objective is to attract, develop and retain quality employees in support of our business.