Lubricants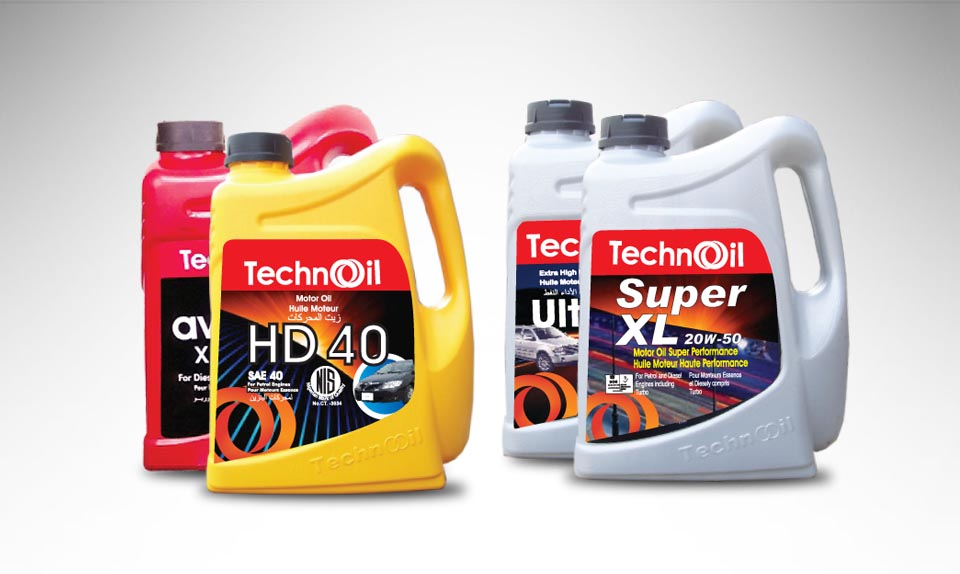 Techno Oil operates a 10,000 metric ton ultra-modern lubricant blending plant located at Lekki Lagos. Techno lubricant is in a wide range of packs, from 800ml to 250 litres. The plant has a large warehouse that stocks over 15,000 metric tons of packed lubricants and open storage of over 150 metric tons of drums.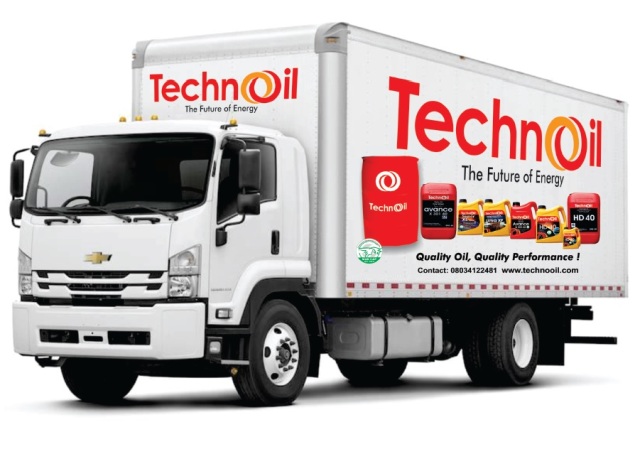 Techno Oil's range of lubricants is of high quality, with advanced protection and specially blended for cars driven on Nigerian roads. They are blended for all modern petrol and diesel engines, including turbo charged ones. They have exceptional antiwear and anticorrosion properties with very high detergency and dispersion, hence increased capacity to limit oil thickening due to sort. The lubricants are certified by the American Petroleum Institute and the International Standards Organisation (ISO).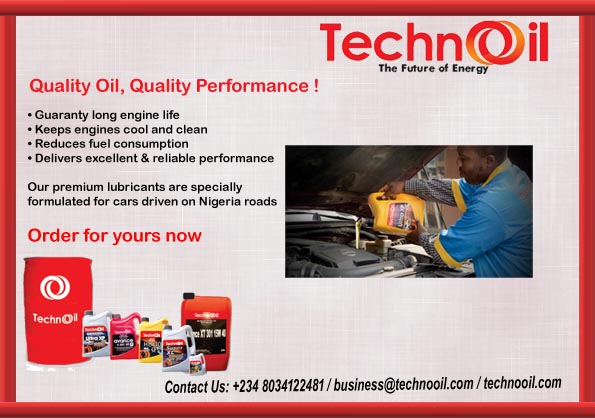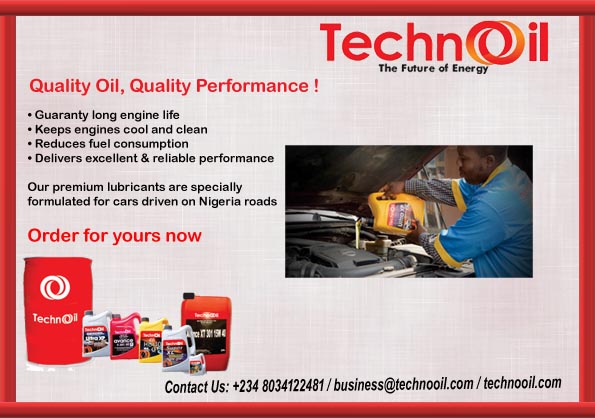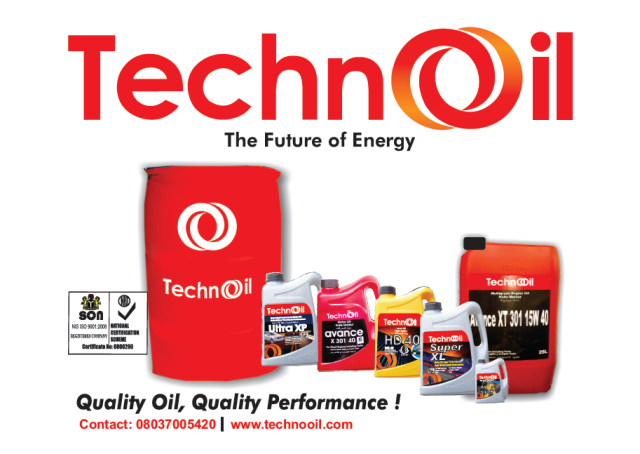 Techno Oil Lubricants have for over a decade, stood for high quality and they come in a range, which includes engines oil, gear oils, hydraulic oils and greases. Our automotive, industrial, marine and heavy duty engine oils meet the needs of engines oil manufacturers (EOM) around the globe.
Some of our high quality industrial lubricants are:
Techno HD 40 API SF/CD

Techno Ultra XP 20W 50 API SL/CF

Techno Super XL 20W 50 API SJ/CF

Techno Avance X301 40 API CH-4/SJ

Techno Avance XT 301 15W 40

NUTO H 100, 68, 46, 32, etc

GX 85W 90, GX 85W 140, etc

Techno Gear EP (Spartan Series)
Techno oil's range of lubricants provides finished lubricants and premium base oils to commercial, consumer, industrial and marine customers in Nigeria. From motor oil for the family car to lubricants for heavy industrial equipment, our customers trust our products to deliver excellent, reliable performance in a wide range of operating conditions.
TECHNO HD 40 (API SF/CD)
Quality mono-grade engine designed for general purpose application in gasoline and diesel engines specially recommended for older running engines. Recommended drain interval after 3,000km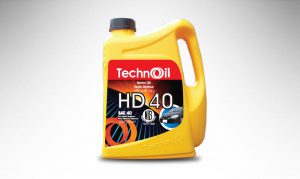 TECHNO ULTRA 20W 50 (API SL/CF) Motor oil
This is a high quality premium multigrade engine oil for high performance gasoline engine, turbo-charged and naturally aspirated diesel engine, suitable for use in modern gasoline and diesel engines where API SJ or API CG-4 performance standard and OEMs warranty specifications are required. Recommended drain interval after 10,000km.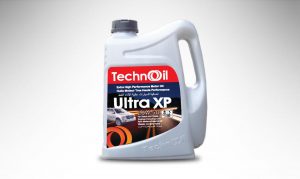 TECHNO SUPER XL 20W 50 (API SJ/CF) Motor oil
This is a premium quality multi-grade engine oil gasoline engine requiring turbo charged and naturally aspirated diesel engine. This is recommended for passenger cars and light trucks, especially in severe weather conditions. Recommended drain interval after 7,000km.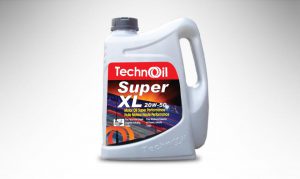 TECHNO AVANCE X301 40(API CH-4/SJ)
This is heavy mono-grade premium engine oil applicable for severe duty in naturally aspirated turbo charged diesel engine with high sulphur fuels. It is highly recommended for mixed fleet applications. It is also suitable as a hydraulic and compressor fluid in wide range of construction equipment. Recommended drain interval after 8,000km.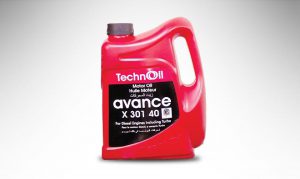 TECHNO ATF D
It is a premium quality transmission fluid suitable for most automatic transmission systems where Mercon/dextron 11 is recommended.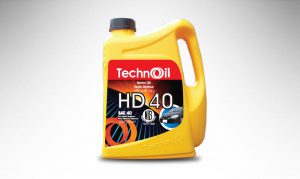 TECHNO GX 85W90 / GX 85W140
Premium quality Gear Oil developed for manual transmissions and gear boxes, standard differentials, manual steering boxes, final drives, universal joints and all other automotive units where API GL-5 gear boxes are recommended.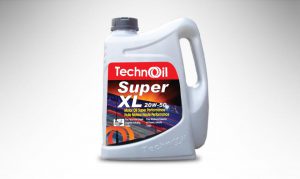 Okada Motorcycle Oil
This is a low-ash superior detergent oil developed specifically for your horsepower petrol driven two stroke engines.
Industrial Lubricants and Oils
Techno Industrial Lubes are blended from high quality base oils and additives for severe practical applications.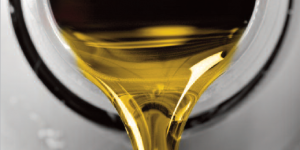 NUTO H
This is premium-quality multi-purpose hydraulic oil recommended for use in a wide range of severe, heavy duty industrial and mobile hydraulic applications requiring an anti-wear fluid. It is recommended for use in applications where anti-wear properties are required such as bearings and gears.
TECHNOGEAR EP (Spartan Series)
This is premium-quality extreme-pressure industrial gear oil High Quality Industrial gear oil suitable for industrial enclosed gears whenever extreme pressure gear oils are required. Techno Gear EP Oils are ideal for heavy loaded gear sets and for gears which are subject to shock loading.
Contact Us
Mary
+234 813 970 1076
Distributors Details
1 .	CHIGOZIE OTO  /  	JUBILEE MARKET, ABA	08034053422
2 .	UDEAJA  /  	JUBILEE MARKET, ABA	08037167739
3 .	FENACO  /  	AKA ROAD, UYO	08037903408
4 .	ONYEKACHI REUBEN  /  	A21 ZARA PLAZA LIFE CAMP ABUJA	07036760842
5 .	ANAYO UGWOKE  /  	Shop 11 GEO GRACIA PLAZA UTAKO ABUJA 	
6 .	EMEKA NDUBIZU  /  	Shop 21 POWA PLAZA KARU ABUJA	08032295362
7 .	ADEGOKE ADEBOYE  /  	GBOKO, BENUE STATE	08065541608
8 .	UCHENNA EGBO   /  	MAKURDI, BENUE STATE	 08030944471
9 .	OZOEDU OKECHUKWU  /  	ZARA PLAZA LIFE CAMP ABUJA	 08036016313
10 .	OBUM NWAJAGU  /  	ZARA PLAZA LIFE CAMP ABUJA	 07031007168
11 .	EBUKA ANTHONY  /  	EKESON PLAZA UTAKO ABUJA	 07067414182
12 .	ALEX EGBO  /  	AYM SHAFA MBORA ABUJA	 08037868962
13 .	O C PHILIPS  /  	14 LOWER EREJUWA STREET WARRI DELTA STATE	08035446653
14 .	OZAKPOLOR ANDREW  /  	17 ZABAYO STREET OFF PLYMOUTH ROAD BENIN	07060842337
15 .	OHIA BRENDAN  /  	36 OSA  STREET OFF IKPOBA HILL BENIN	08033667576
16 .	MRS BRIDGET  /  	159 WARRI-SAPELE ROAD OPPOSITE ECOBANK WARRI	08055795396
17 .	ZULIK OIL  /  	NEW LAGOS ROAD BENIN	08164862839
18 .	MRS FLORENCE  /  	30 UTI  STREET WARRI DELTA STATE	09064406928
19 .	MRS ALESMA  /  	2ND OFUMEGBE STRRET BENIN	07016016547
20 .	MR EMMANUEL  /  	EBVAREKE SPARE PARTS MARKET BENIN	08035709145
21 .	OKEY VENTURES  /  	108  IGUN STREET BENIN	08035436994
22 .	AUGUSTINA  /  	MAIN MARKET WARRI DELTA STATE	07051590682
23 .	OGBEIFUN GODSTIME  /  	NEW LAGOS ROAD BENIN	07036147813
24 .	FOLAKE JONES  /  	23C JONES HOUSE, SEGUN OSOBA WAY OKE-ILEWO ABEOKUTA OGUN STATE.	08033829660
25 .	GLORIOUS VENTURE  /  	9, KUTO ROAD, ABEOKUTA.	08039423661
26 .	FOWOBI DYNAMIC   /  	NO 6, PEACE ESTATE OLOMOORE FED. HOUSING ESTATE, ABEOKUTA.  	08033327680
27 .	E.28 Limited.  /  	8B, MAIN AVENUE DIAMOND ESTATE OFF APETE-AKUFO ROAD IBADAN.	080667511506
28 .	CLEGEEE   /  	ASPAMDA	08033805025
29 .	CHUCURL  /  	ASPAMDA	08146339100
30 .	UNIQUE ADONAI  /  	IDUMOTA	08037177735
31 .	MUDECO  /  	LAKOWE	08025613351
32 .	EMMANUEL ONUBOGU  /  	BOGIJE	08039332291
33 .	AGINA AND SONS  /  	VICTORIA ISLAND	08055442715
34 .	AL-MORUF  /  	LAGOS IGANDO-ISHERI, ROAD 	08033280720
35 .	ADE DE YOUNG  /  	TRADE FAIR ASPAMDA MAIN GATE	08132286732
36 .	CHUWIK  /  	A6, SHOP 59, ASPAMDA 	08033791289
37 .	ANYAWU CHINENYE   /  	234 AGO PALACE WAY AMONOTA BUSTOP AGO	08022555440
38 .	OKOLIE EMEKA PETER   /  	ZONE D7,SHOP 30 ASPAMDA 	08035084010
39 .	NOBIS  /  	ASPAMDA	08037279047
40 .	GLOBUS SUPERMARKET  /  	1,OLUDEGUN STREET IRE AKARI ESTATE	09015719578
41 .	STANLEY IGWE  /  	210, AGO PALACE WAY OPPOSITE MOBIL FILLING STATION	07033668513
42 .	UCHE EZESON  /  	ZONE 1, MOTOR CYCLE PARTS. NNEWI	08065012190
43 .	 MC NWAOGWUGWU  /  	D6/22,NEW PARTS MARKET NKPOR	08037442206
44 .	OLUEBUBE  /  	90 UPPER IWEKA ROAD ONITSHA	08038482146
45 .	OBEGO GLOBAL LINKS SERVICES  /  	FREEDOM PLAZA OPPOSITE EZENEI BUSTOP , ASABA	08037576708
46 .	MAURICOUS INVESTMENT LTD  /  	B9/12,NEW PARTS MARKET NKPOR	08066229225
47 .	 CHINOCHUKS  /  	D5/12,NEW PARTS MARKET NKPOR	08033089236
48 .	MICHDAN  /  	93 IWEKA ROAD ONITSHA	08034002798
49 .	B JAMES TRADING COMPANY  /  	DELTA STATE	08063383784
50 .	EDDY FAB OIL  /  	C3/12 NEW PARTS MARKET NKPOR	08033385884
51 .	VIC AND RAY PETROLEUM  /  	MACHANIC VILLAGE,NKWERE RD,OPP GTB,PHC.	08037464752
52 .	N.G BRIGHT ENTERPRISE  /  	20 IKWERE ROAD PHC.	08037739841
53 .	FELIX ASOUZOU AND SONS  /  	IKOKWU AMAIGBO STREET PHC	08185597705
54 .	EMMA ST JOSEPH  /  	RUMUDOMAYA SLAUGHTER MARKET	08069021599
55 .	MUFFAT MFON OKON  /  	DEMUFF GLOBAL,35 OBIWALI ST RUMUIGBO PHC	08035091012
56 .	VICTOR/LEVIRE  /  	NEMBE WETERS	08038251671
57 .	AYOWEST NIG LTD  /  	NEMBE WATER FRONT	08063281051
58 .	AYOWEST NIG LTD  /  	NEMBE WATER FRONT	08037073537
59 .	MUSA OIL VENTURS   /  	NEMBE WATER FRONT	08025754525
60 .	PRECIOUS LAND RESOURCES  /  	IKWERE ROAD PHC	08032379737
61 .	CRIXTUS GLOBAL/IKKENNA SAMUEL  /  	ABULOMA.	08035489822
62 .	DAVISON INTERNATIONAL  /  	ABULOMA.	08036814779