FG's team inspects Techno Oil LPG cylinder plant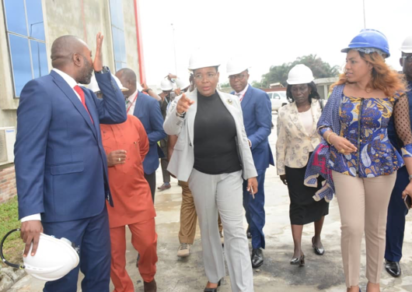 (From right to left) Senior Adviser, Downstream & Infrastructure to the Minister of State, Petroleum Resources, Brenda Ataga, Executive Vice Chairman, Techno Oil, Nkechi Obi; General Manager, Gas, PPPRA, Olasupo Agbaje and Managing Director, Techno Oil, Tony Onyeama during the inter-ministerial team inspection of Techno Oil LPG Cylinder Manufacturing Plant in Lagos on Wednesday.
Lagos, June 13, 2018 A 15-member Federal Government Inter-ministerial Team on Wednesday inspected a landmark LPG cylinder manufacturing plant built by Techno Oil Ltd in Lagos, ahead of its inauguration.
The multi-billion-naira facility is expected to produce five million cylinders of various sizes annually and generate no fewer than 6,000 jobs.
Speaking to newsmen after touring the plant, Mrs Brenda Ataga, Senior Adviser, Downstream and Infrastructure to the Minister of State, Petroleum Resource, said that government was working out a package of incentives to encourage investors in oil and gas.
She said the ministry of petroleum resources would set up a unit to liaise with the Federal Ministry of Finance to package tariff incentives for credible investors in the oil and gas sector.
Ataga, who lauded Techno Oil for its initiative in building the plant, said that the petroleum resources ministry was doing everything possible to make Nigerians to embrace LPG.
She said that government was keen on ensuring that every Nigerian household embraced cooking gas rather than using fire wood and other harmful energy sources.
Also speaking, the Head, Gas Monitoring and Regulatory Division in the Department of Petroleum Resources, Mr Sanya Bajomo, said that he was impressed with what he saw at the plant.
"It is a thing of joy that we can now manufacture LPG cylinders in Nigeria, instead of importing.
"We give kudos to Techno Oil for preparing the ground for every household to adopt cooking gas.''
Similarly, a representative of the Standards Organization of Nigeria (SON), Mrs Nwaoma Olujie, commended Techno Oil for building the plant.
She noted, however, that SON would never relent in ensuring that set standards were strictly followed in the deployment of facilities.
Olujie said that it was necessary for indigenous companies to venture into manufacturing of facilities needed by Nigerians to discourage importation of fake products into the country.
The Executive-Vice-Chairman of Techno Oil, Mrs Nkechi Obi, expressed her happiness with the team for taking off time to inspect the plant, remarking that "seeing is believing''.
She described the plant as a dividend of the Local Content policy of the Federal Government, which
according to her, has spurred many indigenous companies to think outside the box.
The industrialist said that the plant was built in partnership with a firm from Europe that had built similar plants in over 15 African and Asian countries.
"Techno Oil embarked on the project as part of our contribution to the drive by the Federal Government to deepen LPG consumption.''
Obi re-stated that the building of the plant, to be inaugurated soon would enable government to save scarce resources, expended yearly to import LPG cylinders from Turkey, China, India and other Asian countries.
According to her, most of the cylinders imported into Nigeria are often fake, endangering the lives of users.
The Techno Oil chief expressed her optimism that the plant would help in meeting the cylinder needs of Nigerians and LPG consumers in West African countries.
She noted that the campaign by the Federal Government to encourage LPG adoption in homes had received a big boost with the completion of the plant.
Techno Oil, which opened shop in 1997, has been a pace-setter in key sectors of the economy, including power, lubricants manufacturing, fuels distribution and real estate, among others.
The company was nurtured to greatness by a dynamic team of young Nigerians, led by Nkechi Obi, an economist, Mr Tony Onyeama, an engineer and Mr Collins Onyeama, a development expert.