FG approves Pioneer Status Incentive for Techno Oil LPG Cylinder Manufacturing Plant. ……Vows to lower cylinder price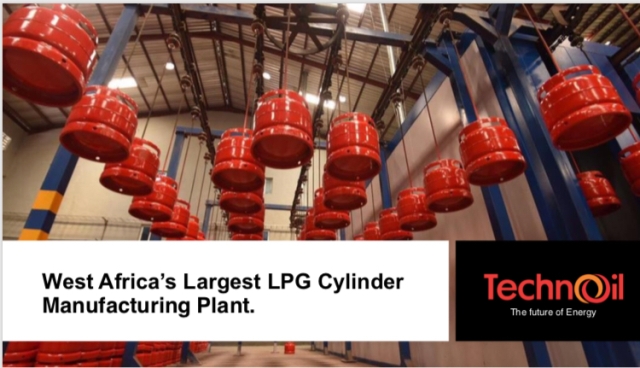 The federal government has approved the 'Pioneer Status' incentive for Techno Oil Liquefied Petroleum Gas (LPG) Cylinder Manufacturing Plant. The first fully indigenous automated LPG cylinder manufacturing plant of Techno Oil Limited was commissioned by Vice President Yemi Osinbajo on June 7, 2019 at Kajola in Lagos State.
The waiver of 'Pioneer Status' exempts Techno Oil from paying tax on import of all raw materials for LPG cylinder production and will help to reduce the cost of production.
The Pioneer Status Incentive was introduced with the enactment of the Industrial Development (Income Tax Relief) Act, No 22 of 1971 to boost utilization of LPG a cleaner energy source.
It is a tax holiday which grants qualifying industries and products relief from payment of corporate income tax for an initial period of three years, extendable for one or two additional years.
It is being coordinated by the Nigeria Investment Promotion Council ( NIPC).
In a press statement, the Vice Chairman Techno Oil Limited, Mrs Nkechi Obi disclosed that with this approval, industrial, commercial and household consumers of LPG will get TechnoGas cylinders at a very competitive and affordable market price." We are excited with the approval of Pioneer Status coordinated by Nigeria Investment Promotion Council as a recognition of our huge investment in first automated LPG manufacturing plant in Nigeria,"she said.
The Techno Oil LPG Cylinder plant has a capacity to produce over 5 million pieces of high quality LPG cylinders annually. The cylinders are in different sizes of 3kg, 6kg, 12.5kg, and 50kg respectively.
Mrs Obi gave the assurance that with the approval of the Pioneer Status, reduction in the prices of Techno Oil LPG cylinders would help to bring an end to cylinder importation.This, she said will also help in meeting the cylinder needs of Nigerians and LPG consumers in other West African countries.
According to her, dumping products that can be manufactured locally has dire consequences for the Nigerian economy.
She further stated that, latest market reports show that the TechnoGas cylinder brand remains buyers' preference because the quality of TechnoGas cylinders meets global standards and the product is better than 95 per cent of the substandard cylinders in circulation.
Obi, a long-time advocate of LPG adoption, lamented that continued importation of cylinders had been hurting Nigerian industrialists, engaged in cylinder manufacturing.
She added " We are indeed happy and grateful to the administration of President Muhammad Buhari for issuance of this Pioneer Status incentive. This milestone project is a positive decision to boost the commitment of Buhari's administration to deepen utilization of LPG in Nigeria and switch households from the use of firewood or kerosene to the use of LPG which is safer, cleaner, healthier and cheaper to use as a source of domestic energy."